EMERALD TOWNHOUSE TWO | PROJECT INFORMATION
READ ABOUT THE PROJECT BELOW THEN CLICK TO SEE THE PROJECT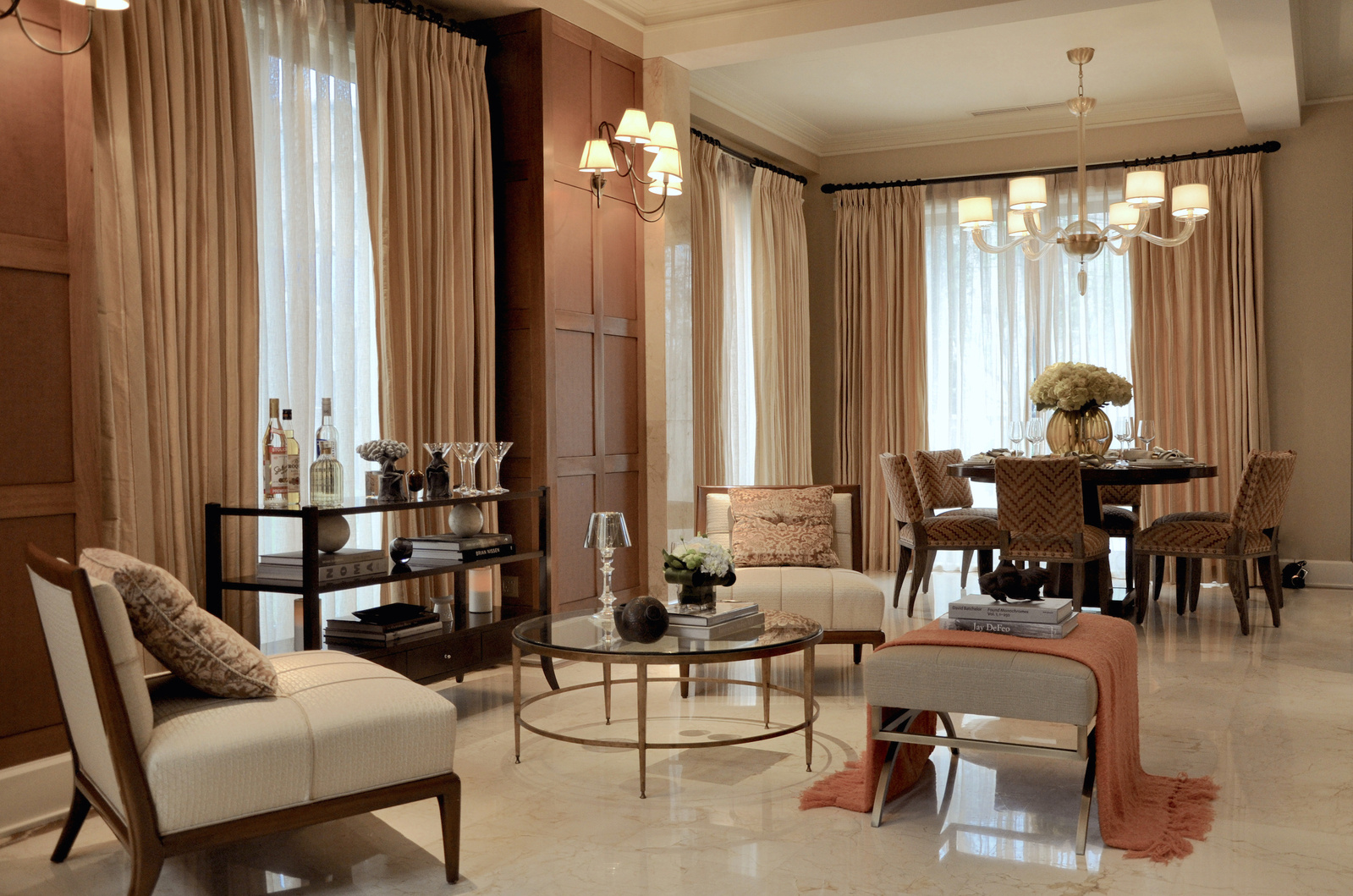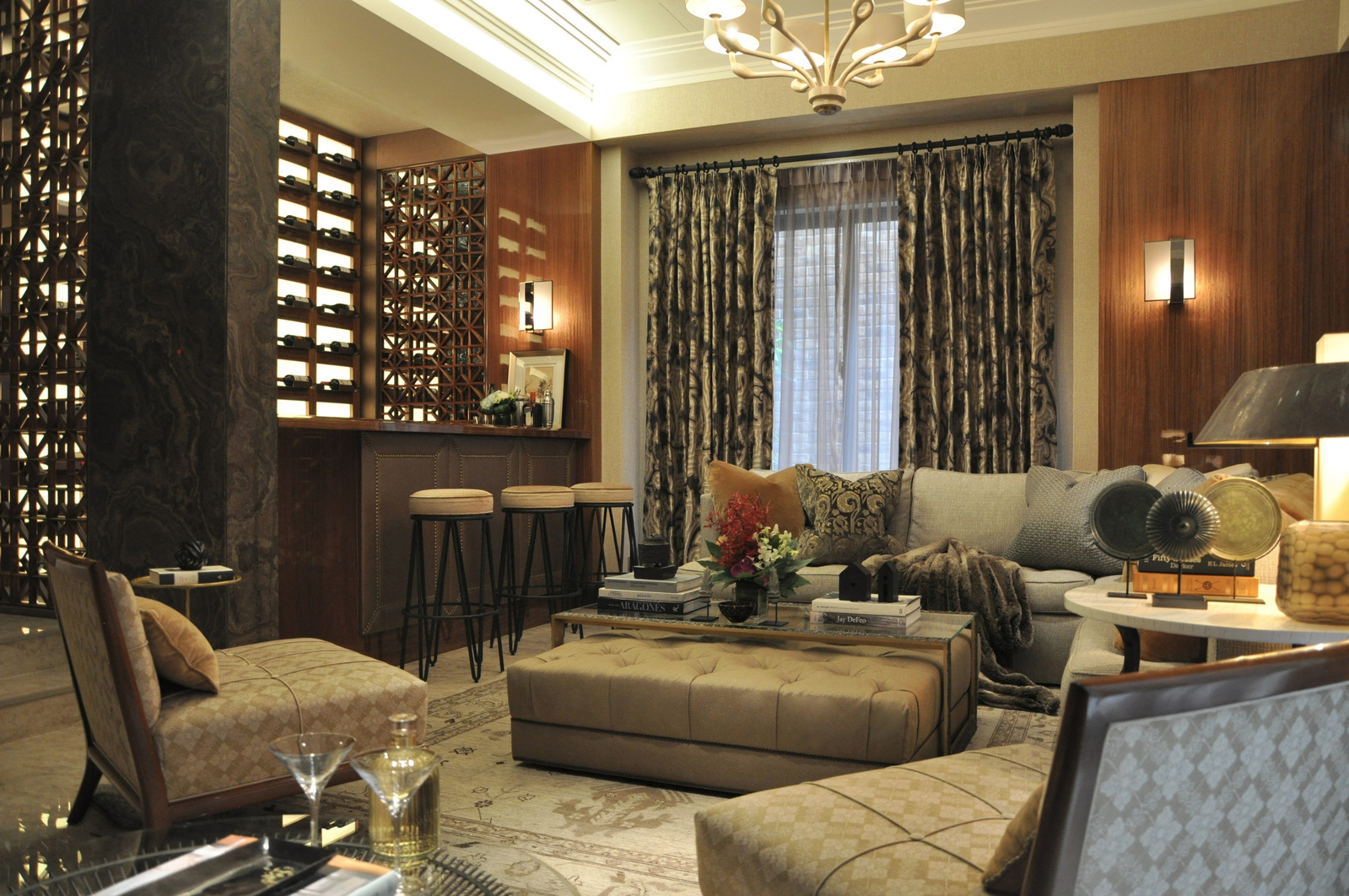 PROJECT INFORMATION.
CLIENT. SUMMERCON. HUIBAO REALTY.
TYPE OF PROJECT | RESIDENTIAL | TOWNHOUSE.
PROJECT SIZE | 400 SQ. METERS | 4, 300 SQ. FEET.
PROJECT COST | WITHHELD AT OWNERS REQUEST.
BRIEF DESCRIPTION.
FOUR FLOORS FOR A GROUND UP PROJECT.
WE WERE TASKED WITH DESIGNING TWO TOWNHOUSE UNITS. ONE MODERN IN ITS DESIGN APPROACH, AND THE OTHER A MORE TRADITIONALLY BASED STYLE, BUT STILL MAINTAINING A CLEAN AND CONTEMPORARY APPROACH TO THE ARCHITECTURAL DETAILING.
THE DESIGN FEATURES FOR THIS MODERN VERSION WENT TOWARDS A MORE ECLECTIC APPROACH THROUGHOUT THE UNIT. THE LIVING AND DINING ROOM WAS MORE INFLUENCED BY AN ART DECO INSPIRED STYLE AND MIXING A MODERN DARK CRYSTAL CHANDELIER WHICH IS MORE CLASSICALLY BASED. WALNUT WOOD AND RED LEATHER PANELED WALLS ADDED A FOCAL POINT TO THE LOUNGE AREA. ACCENTED BY DECO INSPIRED WALL SCONCES.
WARM COLORS AND BOLD PATTERNS WERE USED IN THE FABRIC SELECTIONS AGAINST A MORE SUBDUED MATERIAL PALETTE FOR THE ENVELOPE OF THE SPACE. LIMESTONE FLOORS WERE INSTALLED IN A SIMPLE GRID LAYOUT, SO AS NOT TO DRAW TOO MUCH ATTENTION AWAY FROM THE FURNITURE AND LIGHTING.
FOR THE MASTER BEDROOM AND TYPICAL BEDROOMS WE INSTALLED WOOD FLOORING FOR THE SOFT, TACTILE QUALITIES THAT ARE INTRINSIC WITH THIS MATERIAL. FABRIC SELECTIONS WENT IN A MORE TEXTURAL QUALITY USING SOFT COLOR TONES SUCH AS GOLD AND GREENS FOR THEIR VIBRANCY AND RICHNESS.
FOR THE MEDIA ROOM WE WANTED A BIGGER STATEMENT TO BE MADE. HERE WE CHOSE VERY BOLD COLORS AND PATTERNS TO BE MIXED TOGETHER AND THROUGH THE USE OF DIFFERENT STYLES FOR THE FURNITURE AND LIGHTING, IT CREATED A CERTAIN SENSE OF DRAMA. AND AS A UNIQUE FEATURE, WE DESIGNED THE WINE DISPLAY WALL AT THE BAR, TO HAVE A COLOR CHANGING LIGHTING SYSTEM INSTALLED BEHIND IT. THIS ALLOWED FOR THE SPACE TO CONTINUALLY CHANGE IN COLOR AND ATMOSPHERE WHEN TURNED ON. IT ALSO CREATED A MORE INTERESTING AND VIBRANT PLACE TO ENTERTAIN GUESTS AND NOT JUST ANOTHER ORDINARY LOUNGE TO WATCH MOVIES IN.
THE TOP FLOOR HAD ITS OWN DEDICATED SPA SPACE FOR THE WELLNESS ASPECT SO MANY PEOPLE SEEK TODAY. THE SPACE WAS INCLUSIVE OF A MASSAGE TABLE AND OUTDOOR LOUNGE TO RELAX IN.
PROGRAM REQUIREMENTS.
PRIVATE ENTRY.
POWDER ROOM.
DOUBLE HEIGHT MAIN LIVING ROOM.
DINING AREA.
LOUNGE AREA.
WESTERN KITCHEN.
PERSONAL ELEVATOR.
MEDIA | BAR AND LOUNGE ROOM.
WINE STORAGE AREA.
MASTER BEDROOM ONE WITH EN-SUITE BATHROOM AND W.I.C.
MASTER BEDROOM LOUNGE | STUDY AREA.
BEDROOM TWO.
BEDROOM THREE.
DETACHED BATHROOM.
BEDROOM FOUR WITH EN-SUITE BATHROOM.
MAIDS ROOM AND SERVICE ROOM.
DEDICATED SPA ROOM AT ROOF TOP. MASSAGE TABLE.